Important Features
EASY TO USE – Retail Sales, Class H Sales, Stores Transfers and Damage Reports are all done from the same sales screen. The program prints the correct invoice or form as required, and in as many as 9 copies. One button Line Delete allows you to delete one line from the transaction, even if you had entered additional items after the one you wish to delete.
FAST SALES - Sales transactions can be completed quickly , with a minimum of keystrokes.
VERSATILITY – Cash Sales, Checks and Card Sales are all handled and tracked, with reports showing each activity.
SAFETY – All sales transactions are kept in duplicate, one set on the hard drive in the computer and one daily set on a floppy disk.
VISIBILITY – Inventory reports can be quickly printed, including reports of specific ranges of numbers or even by location in the store. Sales reports can be printed from either the hard drive date, or from the floppy disk data. Sales report can be printed by date range or invoice number range. Other reports can also be quickly printed.
FLEXIBILITY – Enter your own non-brand code items with numbers you assign , and track non-catalog sales just like catalog items, while keeping them separate.
ACCURATE INVENTORY CONTROL Change in inventory quantities due to sales, damage, stores transfers, or arrival of a shipment are all easily and accurately recorded and tracked.
SMART LOOKUP – No scanner conversion box required! The program automatically converts six digit bar codes to ten digit codes. Brand code numbers, bar codes and your own assigned item numbers can be input from the keyboard, and the SMART LOOKUP feature figures out what kind of number it is and handles it correctly.
FAST INSTALLATION – The entire installation and setup procedure takes about ten minutes, including entering your inventory quantities.

ORDER POWER – Full ordering capability and requisition file creation, including QUICK CREATE, to create a proposed order based on minimum stock settings. One button entry of your order when it arrives. Enter an arriving order with just two button clicks.
PRICE UPDATES - Update all liquor prices in just seconds.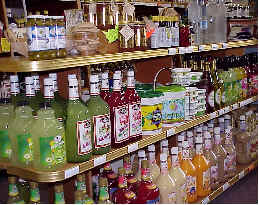 ID SCANNING - An optional ID Scanner module and bar code gun allows scanning driver's license bar codes directly when making a sale.
CANADIAN CURRENCY - A currency converter allows direct entry of Canadian currency and does the conversions for you.
NAVIGATION - The Magnum program can be operated using only the keyboard, a mouse, or both, depending on your preferences.
FEATURES - It is impossible to cover all of the features of the Magnum Sales System in a single page!
What Do The Agencies Say?
"Harrah! Finally a system that works!"
"I believe one of the benefits of the Magnum Program is its ease of operation. It's time consuming and frustrating to train new employees on complex multiple key entry systems. Using Magnum Program's simplified POS single key entry method for simple retail sales, a sales clerk is trained, up and running, in less than 15 minutes."
"Mike realizes that we are the ones using this everyday."
"GREAT PROGRAM AND GREAT SERVICE."